My Exeter Hotel Has Mold. Who Can Help Me Remove it?
6/14/2020 (Permalink)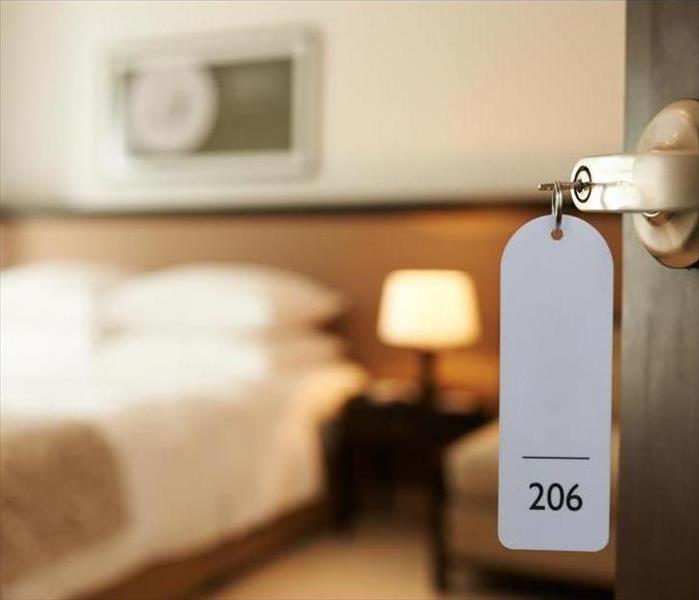 Make sure to contact SERVPRO at the first indication of mold damage in your hotel. We are available 24/7.
Call One of the Leading Commercial Mold Removal Companies in Exeter to Handle the Issue
Travelers typically expect a refreshing and clean hotel room to rest. What they do not expect is mold infestation. If your Exeter hotel has mold damage, you should hire a restoration company like SERVPRO to eliminate it so that your guests and employees do not experience health effects.
Why should I hire a professional mold cleanup service?
When you notice the signs of a mold infestation in your hotel, it is vital to seek assistance from commercial mold removal companies in Exeter. Although mold treatment devices and cleaners are available in hardware stores, you cannot be sure which ones are effective. Also, you do not want to expose yourself to mold. Professionals have proper training and advanced mold remediation products and equipment.
What causes mold to grow?
Mold enters a building as tiny spores that need moisture, nutrients, favorable temperatures, and oxygen to start growing, digesting, and destroying. Molds grow best in areas with lots of moisture or humidity. The bathroom is the likeliest place where mold grows in hotel rooms. Humidity and moisture from constant use allow mold to grow between the grout. Molds can grow on many surfaces, including:
Ceiling tiles
Wood
Paint
Wallpaper
Sheetrock
Carpet
Insulation
Hotels usually rely on repeat customers and word of mouth referrals to remain in business. Mold in your hotel can lead to loss of customers because of negative reviews. Our SERVPRO team can take the right measures to eliminate the mold.
What does mold remediation involve?
Mold remediation is the process of removing or cleaning up mold from an indoor environment. When removing mold, it is vital to understand that when you disturb it, its spores can get into other areas of the building, creating new mold problems. Before we remove the mold, we can build a containment using negative pressure. We also wear the right personal protective equipment and follow the stipulations of the Institute of Inspection, Cleaning and Restoration Certification (IICRC) with regards to mold removal.
Our team can eliminate the mold by physically removing the affected porous materials and drying the environment effectively. We can also use disinfectants to remove some molds. Direct contact between certain molds and some disinfectants inhibits or slows mold growth.
How long does it take to remove mold?
The time it takes to remove mold depends on various factors like where the mold is growing, how much mold is present, and the materials it is growing on. Mold removal can take anywhere from one to five days.
If you need to remove mold from your hotel, call SERVPRO of The Seacoast, SERVPRO of Dover-Rochester, and SERVPRO of Durham at (603) 433-4300. Our staff is certified in mold remediation and mold removal by the IICRC.
Click here for more information about Exeter.