Take the Stress Out of Finding Remediation Services in Portsmouth With SERVPRO
1/30/2020 (Permalink)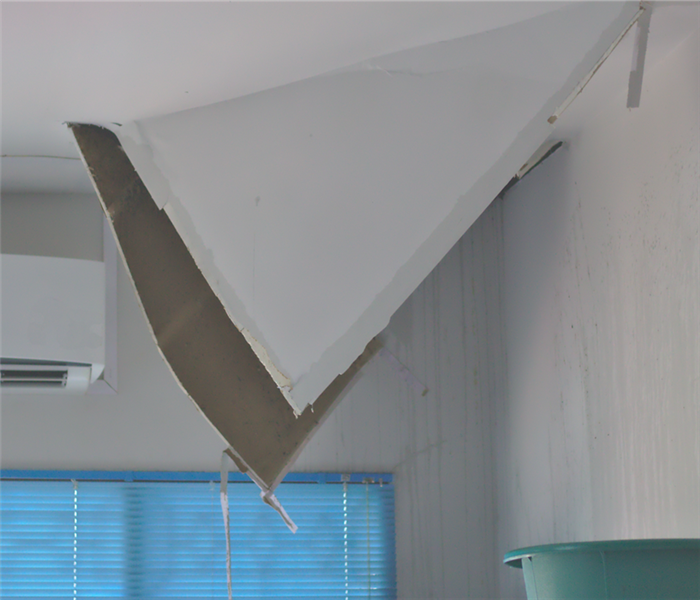 Water damage can quickly destroy the structure and contents of you home. Contact our SERVPRO team to jump in and mitigate the situation.
Complexity of Restoration Projects Is Why SERVPRO's Response Ranks Highly in Our Community
When your Portsmouth home suffers damage from water, fire, mold, or storms, the most successful mitigation and remediation outcomes occur after a speedy, professional response. Although a homeowner can manage some aspects of a property loss, the risks of progressive deterioration or secondary damage are significant if the restoration industry's best practices are not observed. Our ability to manage the demands of even a complicated restoration scenario is why customers appreciate our skills.
Water Damage
Residents report many maintenance issues and malfunctions that result in a water loss in Portsmouth. Our Institute of Inspection, Cleaning and Restoration Certification (IICRC)-trained managers and technicians are prepared to protect your investment and minimize the disruption following a water emergency. Most common among the causes of water damage are plumbing leaks and appliance malfunctions, which usually present as an urgent crisis. We're Faster To Any Size Disaster, ready to manage even large quantities of water efficiently when a sudden emergency occurs.
Other water incursions can be harder to discern, often the result of small leaks in pipes, condensation from air conditioners, long term seepage from ice dams or minor roofing fails, or a host of other unnoticed issues. Our training, experience, and advanced moisture detection equipment is why SERVPRO locates the once small water incursions that eventually create significant damage.
Our team members' comprehensive understanding of the science of psychrometry, a precise term for drying, is why we follow a research-based protocol for every water damage or flooding scenario we encounter. During the first phase of a water loss project, we emphasize thorough extraction. Reducing the fluid present when structural drying commences increases the efficiency of our efforts and decreases the amount of time taken to bring moisture to normal levels.
Fire Damage
Nothing can prepare a Portsmouth resident for the terror and destruction a fire brings. Even a relatively minor fire poses a tremendously challenging cleanup prospect. The soils or soot created during the fire float on air currents, often landing many rooms or levels away from the site of the blaze. Some soot is quite evident and straightforward to locate, dark in color or ashy and floating like dust. Some kinds of soot drape down like cobwebs, easy to spot.
Protein-based soot, created by an evaporative process during a kitchen fire, is a common type of fire damage in Portsmouth as elsewhere. It is harder to see, but horrible to smell. It forms an almost transparent, extremely adhesive coating on surfaces anywhere it drifts in your home. Our ability to locate any soot is why a call for a post-fire inspection is critical.
SERVPRO Fire and Smoke Restoration Technicians (FSRT) are familiar with all types of soot, prepared to manage each safely and efficiently. One household fire can produce different types of soot, so our certified employees are well matched to a job that requires frequent reassessment throughout the project. We ensure that soot removal employs the proper products and techniques according to the characteristics of the residues.
We also take steps to keep occupants safe from the spread of toxic residues inevitable in a fire damage mitigation and remediation project. Negative pressure air scrubber equipment helps seal off a work area draped with heavy-duty plastic. HEPA filters trap airborne contaminants and vent the air to the outdoors. Our crews don personal protective equipment (PPE) during the job to avoid tracking soot through unaffected areas. The consistency we show in protecting you and your family is why SERVPRO garners high marks from customers.
Mold Remediation
Residents know the worry that accompanies a whiff of a musty odor or telltale signs of mold growth in a damp corner in Portsmouth. Often homeowners think microbial growth is a sign of poor housekeeping. On the contrary, mold spores seek the water most people use when tidying up. Failure to dry out areas after deep cleaning provides the perfect environment for mold growth, similar to that found when water losses are incompletely dried.
Ironically, residents of Portsmouth using self-help mold damage removal methods like the use of a diluted bleach solution also can make things worse rather than better. The solution might lighten the mold stain but does not reach into porous materials completely, failing to kill all of the hyphae or branchlike mold roots. Residual water in structural materials then feeds the mold, creating a rebound effect.
Our certified Applied Microbial Remediation Technicians (AMRT) comprehend the challenges of mold damage abatement. We follow the Environmental Protection Agency (EPA) protocols, why SERVPRO can deliver successful remediation results. Our process is to:
Contain the mold area during the project to prevent drift
Remove the mold colonies using mechanical means like scraping, brushing, and soda blasting
Assess whether some porous materials must also be removed
Bag and dispose of moldy materials per local regulations
Clean up debris with HEPA-equipped vacuums
Disinfect the affected space with EPA-registered antimicrobials
We also find the moisture source fueling the mold outbreak, helping to arrange for repairs or enhanced ventilation. A mold spore-free outcome is impossible to promise, but our efforts reduce dry spore counts to normal levels. Vigilant moisture control avoids the growth cycle that causes the infestations.
Storm Damage
Extreme weather patterns are becoming more and more common in all areas of the United States, and Portsmouth is no exception. Heavy rains, high winds, and storm surge contributes to a pattern of severe property losses connected to storm activity. The damage done to your home might be extensive. Holes in exterior structures require urgent securing to limit further damage. Rain and flood water can invade, harming building materials and contents. Significant contamination of your premises by sewage, chemicals, salt water, and other pollutants can occur.
Recovering from these challenges requires highly-qualified professional assistance. The need for expert coordination of the various phases of mitigation and remediation is why SERVPRO is your best partner at a stressful time. Our team of experienced managers and conscientious technicians have the training and the commercial-grade equipment to respond promptly, plan appropriately, and implement immediately.
Expect your house to receive swift boarding and tarping attention as the inspection and planning ensue. High-efficiency pumps and extractors remove vast quantities of water, and we contain contaminated fluids for lawful disposal. Trapped water found using infrared imaging releases through controlled demolition techniques like flood cuts and drilled or punched holes, always best performed by a trained expert. Disinfection is mandatory, and we use only EPA-registered products.
Structural drying completes on schedule, with moisture level baselines established using probes. We monitor the drying to hit the mark, neither under nor over dried. Our technicians position heaters and air movers to evaporate water absorbed by structures, and dehumidifiers to condense and absorb moisture for permanent disposal.
Rely on the professionals from SERVPRO of The Seacoast for all of your disaster mitigation and remediation needs. Call us at (603) 433-4300 for prompt and comprehensive help to make it "Like it never even happened."
Click here to learn more about Portsmouth.