How SERVPRO Removes Water From Auto Repair Shops
8/26/2019 (Permalink)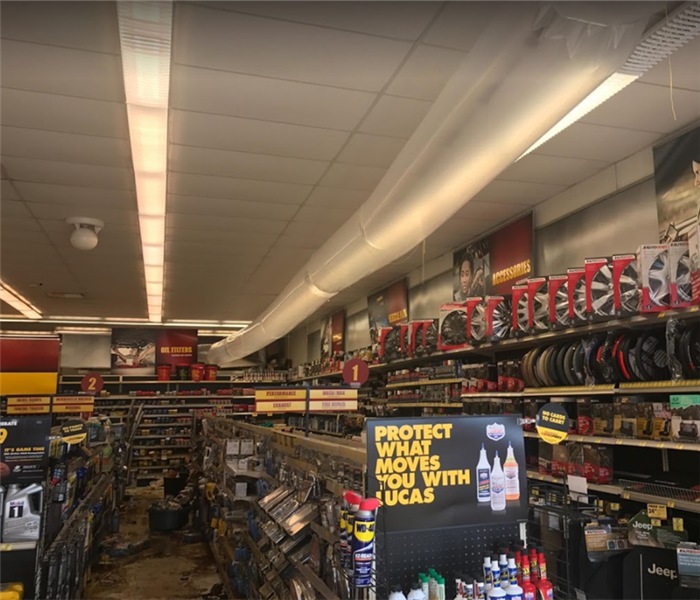 Water intrusion events into an auto garage can create a hazardous situation. SERVPRO has the know how to safely remove the water.
Precautions that Help During Commercial Water Removal in Exeter Auto Repair Shops
When people bring vehicles to your auto repair shop, they expect solutions for a wide range of problems. A water loss incident can prevent you from serving clients when they are in dire need. In some cases, an incident can cause additional damages to the vehicles that they did not have when they arrived at your shop. Being cautious when handling spilled water at your Exeter auto repair shop can help deliver better results.
Controlling the Spread of Dissolved Chemicals
Caution is necessary during commercial water removal from affected Exeter Auto repair shops because the water might dissolve oils and other chemical agents used in day-to-day operations. Relying on lifting mechanisms such as water extractors and pumps is better than using mops and buckets because they limit the transfer of agents throughout the property. Spreading may not seem like a big deal, but it can prolong the cleaning process. Our SERVPRO technicians use water extractors with storage tanks to ease removal without spreading contamination.
Managing Humidity Levels
High humidity levels can be detrimental to the vehicles left at your store. It can cause different kinds of deterioration to car upholstery, including the development of mold. It can also cause rust in components with metallic parts. Once the water spills, evaporation starts, which increases relative humidity levels in your repair shop. Our SERVPRO technicians use different approaches to extract moisture from different materials restoring normal humidity levels. For instance, doing calculations helps ensure we place the right number of air movers and dehumidifiers to manage humidity.
Inspecting Hidden Areas
Once water spills, it spreads quickly throughout the affected premises. A proper inspection can help identify whether such water reaches hidden areas where it can cause long-term problems. Our SERVPRO crews use advanced equipment such as FLIR thermal cameras to identify wetness in concealed areas. We can also use advanced equipment such as injecti-dry systems to remove such hidden moisture while minimizing the demolition needed.
Managing a water loss situation in your auto repair shop can be tricky. Call SERVPRO of The Seacoast at (603) 433-4300 to help. Our combines skills and equipment ensure we handle the incident, "Like it never even happened."
More about Exeter.