SERVPRO has the Equipment for Water Damage Restoration in Portsmouth
12/6/2019 (Permalink)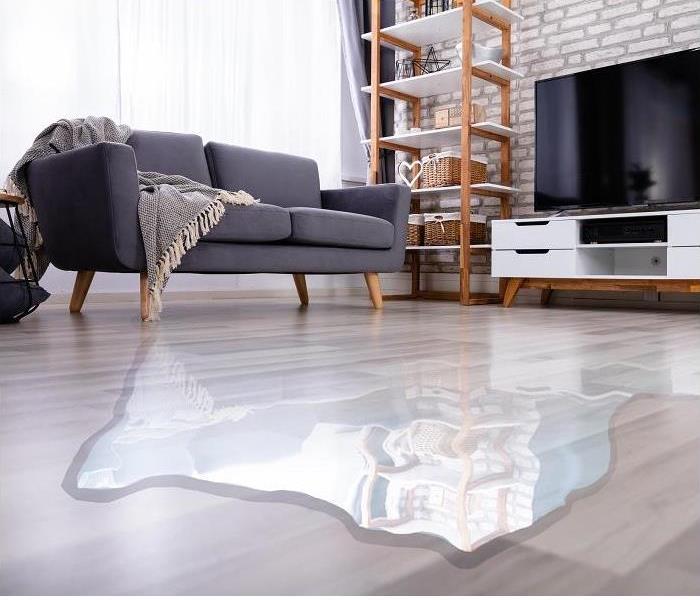 Even a seemingly small water leak can cause large amounts of damage. Call us today to restore your home!
Proper Equipment Utilization to Ease Water Damage Restoration in Portsmouth
When water loss incidents affect a property, the main concern is how to remove the water and dry moisture restoring preloss conditions. The outcome of a restoration exercise depends on several factors, including how quickly it starts, as well as the availability of resources. Our SERVPRO, teams rely on availability and proper use of equipment to ease the restoration process.
The intensity of water damage incidents in Portsmouth may vary depending on the cause of the spill. Significant amounts of standing water left in a property over an extended period worsen the situation. Our SERVPRO teams use different types of pumps to remove such water fast. We can rely on experience or make calculations to determine the amount of water needing the extraction to determine the right pump. We might also consider whether the water is over 2 inches deep to determine whether a regular or submersible pump would be best for the job.
After dealing with stagnant water, the challenge shifts to drying wet materials and equipment. The drying process requires improved evaporation rates and extraction of humidity from the air. Equipment such as air movers and dehumidifiers help complete the process faster. However, before setting up the drying equipment, our SERVPRO technicians first establish the level of wetness in different materials. For example, using moisture meters, we can establish the moisture percentage in wooden materials, and, thus, the drying effort needed to restore the standard moisture content, which is around 10%.
Having the right equipment helps with the restoration, but only if they are correctly set up. Our SERVPRO technicians set up one air mover per room for optimal evaporation. We also add one unit for every 50-70 SF of the wet floor. Pairing air movers with the right number of dehumidifiers help ensure balanced drying preventing secondary damages.
Water damage can have long-term effects if not adequately addressed. Call SERVPRO of The Seacoast at (603) 433-4300 to benefit from our wide range of sophisticated equipment. We're Faster To Any Size Disaster.
More about Portsmouth.