Portsmouth Property Owners Benefit from SERVPRO's Advice for Mold Prevention
9/6/2021 (Permalink)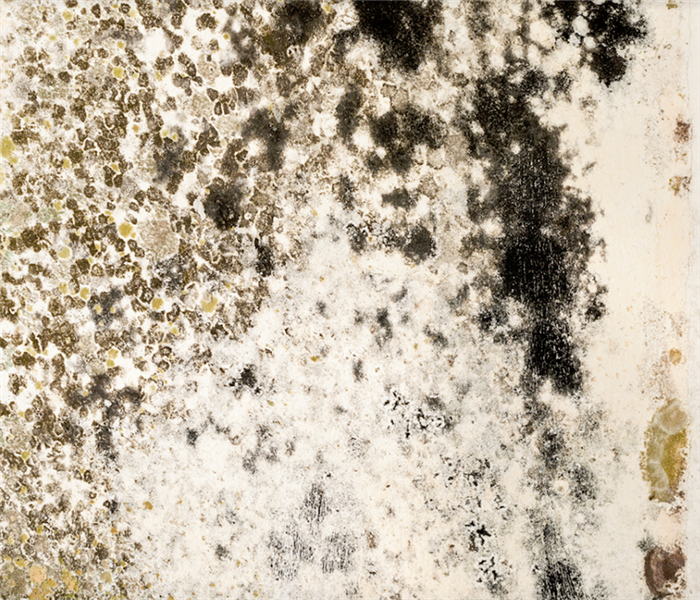 When your home is affected by a mold infestation, time is not on your side. Before the mold spreads, contact SERVPRO to investigate and remediate.
Why SERVPRO's Experience in Preventing Mold Damage Helps Homeowners in Portsmouth
When molds and their microscopic spores settle on the surfaces inside a home in Portsmouth, a few different things can happen. They can come into contact with a dry surface and eventually end up on the floor where regular housekeeping chores eliminate them. They also might land on a moist surface and start a small colony of actively growing microbes.
Why SERVPRO technicians take small colonies seriously upon finding them in an Portsmouth home is because mold damage happens quickly, spreads rapidly, and can also cause health effects in occupants. We want all of our neighbors to live in a home free of excessive mold, and one way to do this is through mold remediation.
Mold Remediation
Our services are thorough and based on honesty. We explain to customers that we cannot eliminate all mold and spores inside their homes. Doing so is not possible for different reasons. One reason is that mold and spores exist everywhere, including the fresh, clean air from the outside. This air pushes mold and spores into your home continuously. One of the most heavily infested areas of a home includes the window sills of opened and partially opened windows. Your clothing also carries microbes into your dwelling. Pets are also guilty of doing the same.
The main culprit in houses that suffer from mold damage is not the microbial population itself. Instead, the reason behind such problems is the presence of uncontained water. Our remediation team uses state of the art technology to detect unknown sources of water and moisture and to determine how widespread these areas range. Our moisture meters reveal how saturated any material in question is, giving us a reasonably accurate idea of how long drying the area might take.
Following lost water back to its source allows us to remedy the problem with a quick repair. These simple repairs keep the area dry and less prone to future colonization by microbes. Reducing, or where possible, eliminating, water and moisture also take care of many mold problems before they can reoccur. For fungal infestations that are persistent, we suggest to the homeowner to seek a contractor for this service.
Merely eliminating the damage caused by mold is only part of SERVPRO's mold damage mitigation and remediation services. We also treat affected areas with an antimicrobial liquid to prevent future regrowth. Educating our customers on how mold and other microbes behave can also help avoid situations that permit microbial reinfestation.
SERVPRO of The Seacoast helps customers successfully cope with mold damage in their homes. Call us at (603) 433-4300. We are always ready to help you by answering questions and providing you with expert guidance.