How Do I Clean My House after Flood Damage in Portsmouth?
12/15/2021 (Permalink)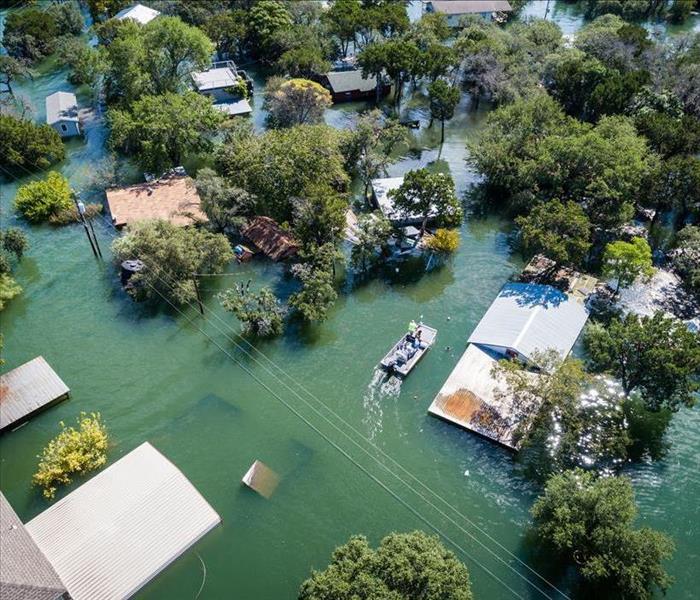 SERVPRO provides groundwater extraction, demolition, cleanup and disinfecting of Portsmouth storm damaged properties
Flood damage cleaning is a multistep process, and SERVPRO can help with skills and other resources.
When your Portsmouth home floods, you have to address a wide range of problems, including deep soiling, contamination, and bad odor, to restore the home to its pre-damage condition. Even from casual observation, you are likely to identify several problems that need immediate attention, whether it is your expensive upholstered furniture submerged in filthy water, appliances filled with murky water, or layers of mud or silt inside your house. Although the ultimate goal is to address all the issues, deciding what to start with is not easy.
How do professional restorers determine what step to prioritize?
Because of dealing with numerous flood damage incidents in Portsmouth, professional restorers develop systemic procedures that help determine the steps necessary in each situation and how to schedule them. Some of the crucial issues our SERVPRO technicians consider include:
The type of items the flood affects
Perceived chances of further deterioration
External factors connected to the flooding
Flooding can damage some items permanently, even after minimal exposure. Carpets and upholstered furniture may be damaged irreparably by exposure to contaminants due to the porous nature of their constituent parts. Our crews are, therefore, likely to focus initial efforts on salvageable contents such as appliances. When scoping the property, we also try to establish the level of deterioration likely to occur and use it as a basis for determining the steps to prioritize. A factor like the amount of standing water left in the building has greater ramifications than the inconvenience it causes to anyone wading through. Such water continues to intrude on surfaces or materials, worsening the damage. Therefore, removing the water or moving items away from the flooded areas have top priority over other steps, unlike a case where the floodwater drains out of the home immediately. One external factor likely to influence the restoration process is the time it takes water outside the structure to recede.
Which steps does a typical flood cleanup exercise involve?
Discarding soaked and contaminated materials
Removal of foreign materials such as mud and silt
Applying antimicrobial agents
Scrubbing walls and floors
As the floodwaters flow into your property, it soaks into different materials, leading to deterioration. Structural materials such as sheetrock, insulation, and wallpaper develop various problems when exposed to water. Since cleaning and drying cannot restore them to the pre-damaged state, the best action is the immediate removal of the wet sections for disposal. Apart from dealing with the wetness, removal also prevents additional problems such as wicking of moisture from the wet areas to the drier ones.
As the floodwater fills your house, it is likely to deposit materials collected outside, including silt, mud, and leaves. In most cases, manual removal is the only way to get rid of such materials. Our SERVPRO technicians bring shovels, plastic bags, and other tools to the damage site to handle the removal conveniently.
Many of the soils left on surfaces such as walls and floors adhere to the material or cause staining. Cleaning such materials can be challenging. Our crews use a combination of manual scrubbing with brushes or dusters and chemical action from professional cleaning agents. For large surfaces such as the floors in several rooms, we can use automated tools such as rotating brushes to ease the workload.
How do I tell what is contaminated?
The presence of contaminants in floodwater increases the burden you have to bear after your home floods. Contamination is high when an incident involves groundwater because such water collects materials over vast areas. Typical contaminants might include:
Farm or industrial chemicals
Heavy metals
Fuel oil
Biohazards including sewage
The water dumps these contaminants on the contents or surfaces it affects, so you should treat the entire property as contaminated and use personal protective equipment such as rubber gloves, boots, and other protective material when venturing in or performing clean-up tasks. The level of contamination left on different materials differs. For non-porous materials such as metal or plastics, the contamination is only on the surface. Cleaning such items thoroughly and use of disinfectants helps remove all traces of contamination. Porous and semi-porous materials can retain some traces of contamination even after cleaning, so they must be handled carefully.
Our SERVPRO technicians inspect the items in your house to determine whether to dispose of or keep them. We consider whether an item is made from porous materials and whether it is exposed directly to contaminated water. Apart from physical observation, we use advanced tools such as luminometers to test surfaces for organic contamination.
Cleaning up a flooded house presents many challenges. Assistance from SERVPRO of The Seacoast, SERVPRO of Dover-Rochester, and SERVPRO of Durham can help you deal with any incident, "Like it never even happened." You can reach us at (603) 433-4300.