Storm Damage To Your Hampton Home Can Permit Flooding
7/5/2018 (Permalink)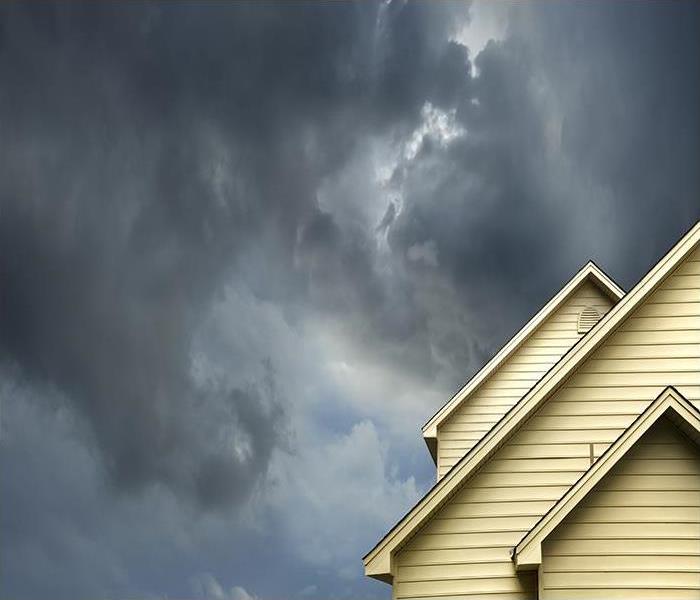 There are many different types of severe weather systems that can cause damage to your Hampton home.
Storm Damage To Your Home Can Permit Flooding
There are many different types of severe weather systems that can cause damage to your Hampton home. Depending on the time of year, systems can roll in from the Atlantic, or sweep up or down across the northwest with an unmatched intensity. While flooding situations from rising water levels or oversaturated ground can continually be a threat through the rainier seasons, the kind of damage they can do to the inside of your home is often ushered in with physical damage to your roof and siding.

Damage to your roof and siding often occurs as a result of high winds and torrential rainfall combined. Hail and falling trees or other tall fixtures on your property can also attribute to damage significant enough to allow water to enter your house unabated. The resulting flood damage to your Hampton residence requires a rapid response from experienced professionals for both water removal and structural restoration.

Fortunately, our SERVPRO professionals have specific training in all manners of flood damage and how best to restore these effects. One of the initial steps in our process is to eliminate the possibility of the damage getting worse. This assurance gets accomplished by sealing up the penetration points by boarding them up, tarping over them, or with the application of hydraulic cement.

Removal of the water is the heart of flood restoration, and our SERVPRO professionals work quickly to eliminate all of the pooling water in the affected areas of your home. With portable sump pumps, wet-vacs with extraction wands, and even high volume pump trucks, our technicians fixate our efforts on preparing the area for the drying to come.

Drying is another critical component, and this is also accomplished in a multitude of ways. From air movers and dehumidifiers working on open areas to specialized equipment to eliminate moisture in wall cavities, above ceilings, and in the flooring material, thoroughly drying the area is essential to a successful restoration job.

While no homeowner gets fully prepared for witnessing flood damage affecting their home, having a professional restoration team that can respond quickly can make all of the difference. Our SERVPRO of The Seacoast technicians is available 24/7 by calling (603) 433-4300.
Click here for more about Hampton.