Infrared Cameras Aid In Commercial Flood Damage Restoration In Portsmouth
9/13/2021 (Permalink)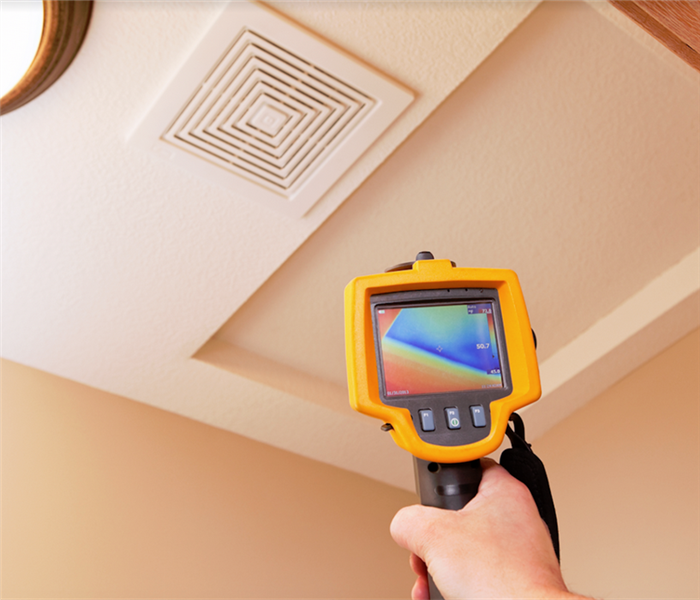 Team SERVPRO has the certified technicians and the latest thermal detection equipment to tackle your commercial flood damage situation. Call now.
Let SERVPRO Show You the Ropes When it Comes to Your Portsmouth Commercial Flood Damage
If Mother Nature ever decides to wreak havoc on your office building in Portsmouth by sending a vicious storm your way, rainwater could get into many places inside your structure. Whenever our SERVPRO team conducts commercial flood damage mitigation procedures, we know that half the battle is finding what got wet. If water enters your office complex from the ground up, many of your building materials like your subfloor or wall studs can retain moisture.
Wet structural components can be hidden behind carpet or wall coverings. When conducting commercial flood damage mitigation in Portsmouth, our SERVPRO technicians use advanced technology and specialized tools to determine where the moisture went once it entered your office complex after the storm. We can use a wide variety of different moisture sensors and meters to detect the presence of water in drywall, wood, or carpet. However, certain areas could be wet that might be difficult to test using penetrating meters.
Especially when dealing with storm-related problems at your office building, an infrared camera can come in handy during the inspection process. Thermal imaging with these cameras can help us find where the rainwater could have gone. The camera works by showing the temperature of surfaces in different colors for hotter and colder materials.
Storms Bring Moisture
Thermal imaging can enable us to find wet materials by showing us temperature changes. When moisture contacts a surface, the temperature often changes and remains different from unaffected areas. When water evaporates from a wet surface, the temperature of the material drops. Water can also hold thermal energy longer than dry surfaces, so wet surfaces could also be warmer than other dry materials.
Unlike moisture meters, infrared cameras do not cause any destruction to your office complex because it eliminates the need to puncture holes for probes. Thermal imaging is also useful when detecting difficult areas such as high, hard to reach ceilings. Using thermography also allows our SERVPRO crew to detect moisture contents in more areas of your office in a shorter amount of time.
If your office building in Portsmouth, Hampton, or Greenland ever suffers after a severe storm, call SERVPRO of The Seacoast at (603) 433-4300. We can return your office complex to the way it was before the storm struck, "Like it never even happened."