Can Attachments Make Water Removal in Portsmouth Home More Efficient?
8/29/2021 (Permalink)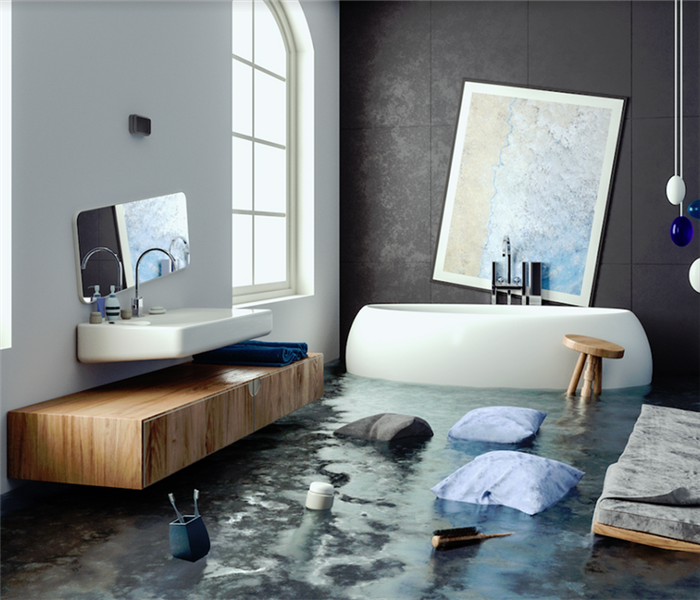 Regardless of the room affected, team SERVPRO has the right tools for effective water removal. Call us immediately to assess and remediate for you.
Tools in Our Recovery Inventory Promote Effective Mitigation for Water-damaged Portsmouth Properties.
With the promise that We're Faster To Any Size Disaster, it is vital for our SERVPRO team to stay diligently prepared to help when disasters strike. Keeping READY trailers stocked with extraction, drying, and water cleanup tools makes the process faster.
Extraction Devices to Manage Considerable Standing Water
Water removal for Portsmouth homes and businesses can be a stressful situation without immediate mitigation and emergency services getting underway. An evaluation of the property determines the best equipment for the task. There are several tools used for efficient elimination of surface water concerns, including:
Wet Vacuums – One of the most versatile mitigation tools in our inventory is the wet vacuum. With the portability of these units, we can manage standing water concerns and trapped moisture with the appropriate wand attachments.
Carpet Wands – These units are ideal for extracting water trapped in carpeting in the early stages of restoration. These attachments also help to manage lingering moisture after deep extraction tools are used. Their small size makes them preferred for removing water from less accessible areas.
Squeegee Wands – These attachments are ideal for hardwood surfaces, tile, concrete, and other low porosity materials. When attached to truck-mount extractors, these squeegee tools can corral water into an on-board vacuum system.
The versatility of recovery tools and extraction devices can help our professionals provide a range of mitigation solutions for damaged properties. Attachments and tools used in conjunction with machines like wet vacuums and truck extractors can help to eliminate surface water on various types of flooring. Our SERVPRO of The Seacoast, SERVPRO of Dover-Rochester, and SERVPRO of Durham water restoration professionals are ready to respond fast when you call (603) 433-4300.