Need Fire Damage Restoration After a Fire – Call SERVPRO
5/24/2022 (Permalink)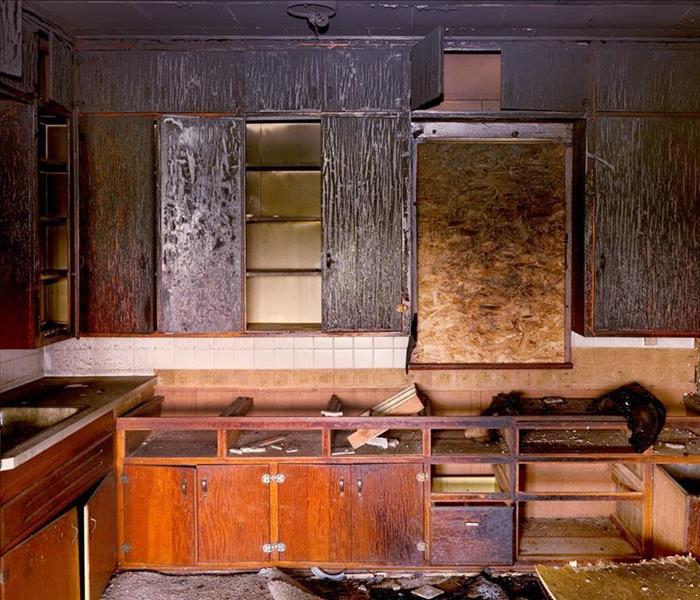 Kitchen fires often require SERVPRO expertise for restoration and remodeling--We make our Portsmouth customers feel, "Like it never even happened."
SERVPRO Provides Fire Damage Restoration and Cleanup in Portsmouth
Many homeowners in Portsmouth want to begin cleaning up after a fire immediately. There may be damage in a small area from the fire; however, smoke residues and odors cover walls, appliances, and furniture. Attempts at cleaning using the wrong cleaning agents and materials can cause additional damage to the surfaces, embedding soot particles in fabrics.
SERVPRO provides fire damage restoration services to residents of Portsmouth and surrounding areas. We remove smoke odors, clean all surfaces and remove soot and smoke residues from walls, appliances, and cupboards. Small kitchen fires often require controlled demolition in the immediate area of the fire, cleanup of fire suppression chemicals, and debris removal.
Fires in kitchen areas produce a variety of smoke residues. Some are greasy and cling to everything, while other residues produced by hot fires are light and fluffy. The soft, fluffy resides are easy to remove and can be vacuumed. Greasy residues must be removed using appropriate chemicals to dissolve the particles and absorbent cleaning materials to avoid causing the residues to adhere tightly to the surfaces they reside on. Applying the correct cleaning agents and methods removes soot and smoke residues.
Let SERVPRO help you with all of your smoke damage cleaning and fire damage restoration. Our technicians are experienced professionals. We can be onsite within four hours of your initial call for assistance, work closely with your insurance company and have a policy of cleaning and restoration rather than replacement. Many of our customers appreciate this approach, especially when family heirlooms and mementos are involved.
SERVPRO provides the following services related to fire incidents:
House fire clean up
Fire and smoke damage cleanup
Fire damage restoration
Call the fire damage restoration specialists from SERVPRO of The Seacoast, SERVPRO of Dover-Rochester, and SERVPRO of Durham and nearby areas for assistance. We can help 24/7. Call (603) 433-4300.