How Space Heaters Can Spark a Blaze in Your Greenland Home
11/13/2018 (Permalink)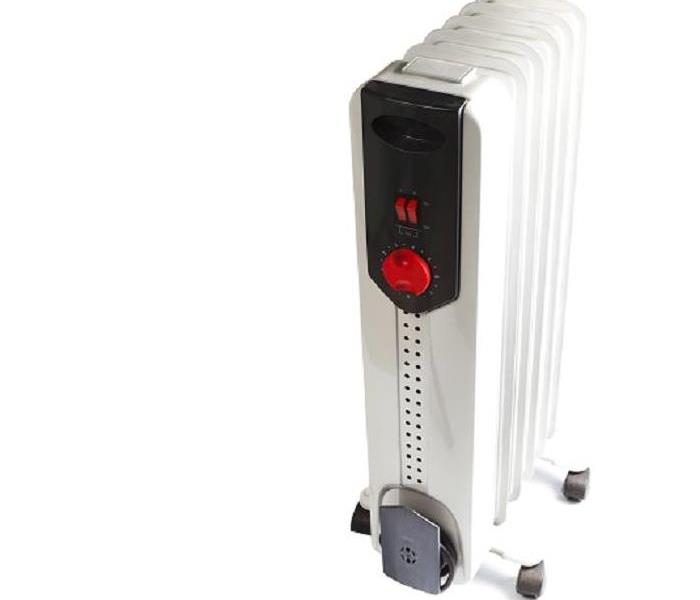 Portable heaters, like this one, can cause fire damage to your home. Inspect your heaters before using them!
When a Space Heater Causes a Fire in Your Greenland Home
Keeping your family warm in Greenland over the winter helps ward off colds and the flu, but also costs money. Keeping smaller areas warm becomes very cost-effective. To do this, the use of space heaters often come into play. Older ones do not have the same safety features that manufacturers now add to almost all newer models.
Using an older space heater significantly increases the risk of your Greenland home sustaining fire damage. Even without tipping over, such heaters can contain minor flaws that make them unnecessarily dangerous. If your home catches fire, SERVPRO is always ready to mitigate fire damage and make everything "Like it never even happened" for you and your family.
Fires caused by heaters generally affect the floor in the area and any nearby furnishings. When we arrive, we check the area to ensure that any support beams in the floor do not have any extensive charring. We work closely with insurance agents on this type of situation, so you know that everything possible is done to restore the integrity of your home. Deep charring can significantly weaken the wood and cause floors to sag. This curving of the floor can create problem areas on the floor's surface.
We remove burned materials and items from the area and clean away the soot that continually produces a smoldering scent. Additional deodorization may help eliminate heavier odors and keep the air fresh smelling. Once topical soot no longer covers surfaces, we can tent the area and deodorize it with hydroxyl gas. This produces a permanent effect, as it causes a permanent change in the chemical composition of the particles that produce undesired odors.
Our employees have earned various IICRC certificates and understand the best methods of restoring a home after a disaster. Different components of a home can suffer damage in different ways, and we continually train to keep our skills honed and up-to-date. We mitigate damage to carpeting, tile, linoleum, and wood floors, walls and ceilings, personal belongings, and also household furnishings. Fire damage affects all of these in specific ways, and each requires different mitigation methods.
SERVPRO of The Seacoast wants to help your family enjoy winter in your Exeter or Hampton home. If fire damage occurs, call us at (603) 433-4300, so we can help you regain control of your home and your life.
Greenland was almost named Canary. Click here to read more about Greenland.