Appliance Caused Flood Damage In Hampton
4/6/2018 (Permalink)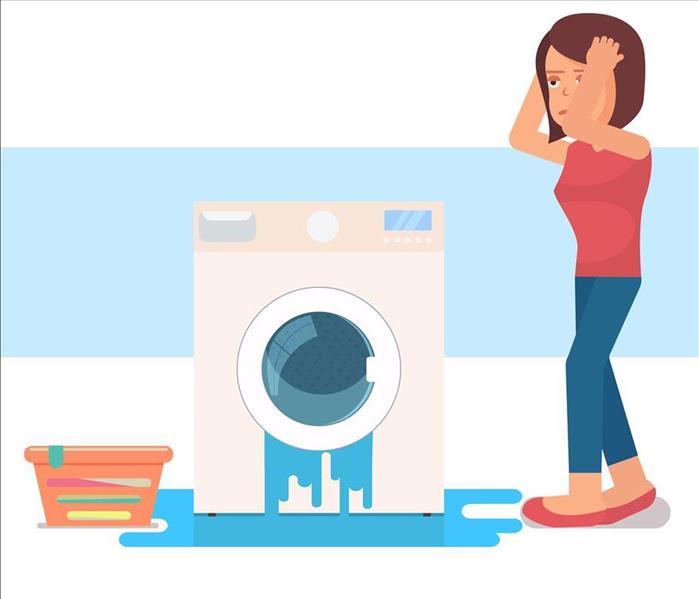 Don't wait until it's too late to restore your laundry room from flood damage! Call the pros at SERVPRO of The Seacoast!
Appliance Malfunction in Hampton Homes Can Result in Flood Damage
Sometimes when it gets freezing outside in Hampton, pipes freeze and break. Cold weather also possibly effects appliances. In some properties, the washer and dryer are in the garage or a laundry room that is not insulated as well as the rest of your home. When the temperature outside drops below freezing water inside a washing machine or a joint at the valve sometimes breaks allowing water to affect the area.

Water filling into your laundry room is a problem that requires quick mitigation so that mold growth does not occur. SERVPRO's flood damage experts in Hampton have experience in dealing with appliance-caused issues. First, the washing machine gets turned off and fixed so that water does not continue to leak out of it.

Next, all of the appliances in the room including the washing machine either get moved or placed onto foam blocks. Then, extraction occurs as we use our equipment to vacuum up any water in the area. If the water is deep, a sump pump gets used to suck up the standing water. Other times, we use either a truck-mounted or portable extractor with a specialized tool to extract water from furniture or flooring.

After we pull all of the moisture out of the floor and contents, we begin the structural drying phase. SERVPRO's restoration technicians first use their sensors and meters to see where moisture is present in the laundry room. Then, we set up air movers and dehumidifiers to dry out any water present within a 48-hour period to inhibit any mold growth.

After our technicians are comfortable with the humidity and moisture levels inside your laundry room, we complete a final cleaning and deodorization phase. We make sure any affected materials that possibly cause foul odors get removed. We use multiple chemicals and methods whenever we attempt to remove any pungent smells.

Our technicians have a plethora of chemicals that fight smells in many different ways. Some chemicals absorb odor-causing particles while others mask them with better-smelling aromas. For professional assistance with deodorization of your home, call SERVPRO of at 24 hours a day and seven days a week.
For more on Hampton, click here.