The Biggest Problems With Water Damage in Greenland Homes
11/28/2018 (Permalink)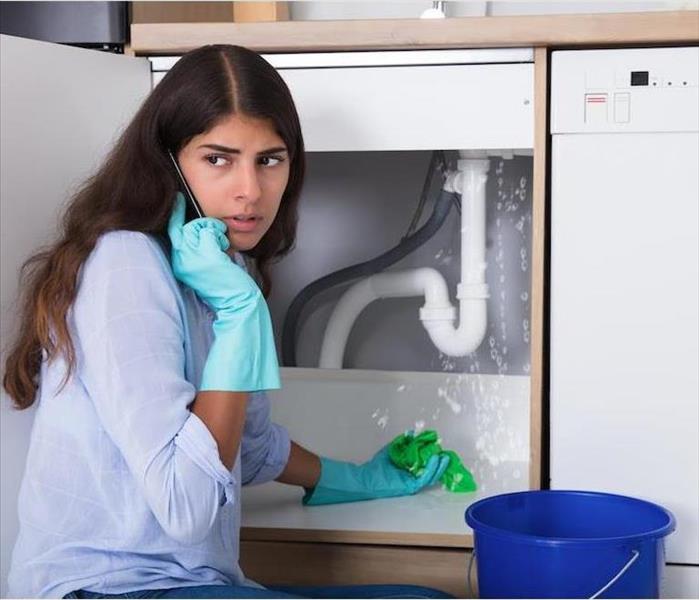 Pipes can break or continuously leak water into your cabinets. Should your kitchen have water damage, call team SERVPRO for services.
The Right Equipment to Overcome Water Damage in Greenland Homes
From faulty appliances to plumbing leaks, there are many potential sources for damage to your Greenland home. While seemingly minor incidents might appear as situations a homeowner could restore and clean up on their own; this is often inaccurate. Within a few moments of exposure to water, construction materials like flooring, cabinetry, and walls all begin to absorb the water and adversely react. Overcoming these effects takes advanced technology and highly trained technicians responding to the situation as promptly as possible.
Water damage in your Greenland home can happen almost anywhere in the house, but recovering this situation follows a concise timeline. Our SERVPRO professionals remain available to our customers 24-hours a day, even on the holidays, to ensure that we can contest these conditions as they happen on your property. This response is vital in helping to prevent secondary effects from occurring such as mold growth.
Our water restoration specialists obtain their IICRC certifications through extensive training and hands-on education to become top responders in the field. We encourage all of these employees to continue honing their craft through available in-house and e-learning educational opportunities. This added information can help each of our technicians to be knowledgeable in the most efficient and effective approaches to restoring your home and mitigating loss upon our arrival.
The advanced technology that we use benefits our customers by offering fast drying approaches that penetrate materials like flooring and drywall. Our high-powered air movers force moisture out of materials to get collected by our industrial-strength dehumidification equipment. Thermal imagery cameras can help our SERVPRO team on-site to determine where concentrated drying efforts are necessary by identifying present moisture pockets in inaccessible areas.
Restoring water damages within your home is nothing that a homeowner should leave to chance. Our SERVPRO of The Sea Coast rapid response team has the advanced equipment and extensive training to protect your home and restore the damage it has sustained. Give us a call today at (603) 433-4300.
Click here for more about Greenland.