Who Offers Reliable and Accessible Portsmouth Flood Damage Assistance?
11/23/2021 (Permalink)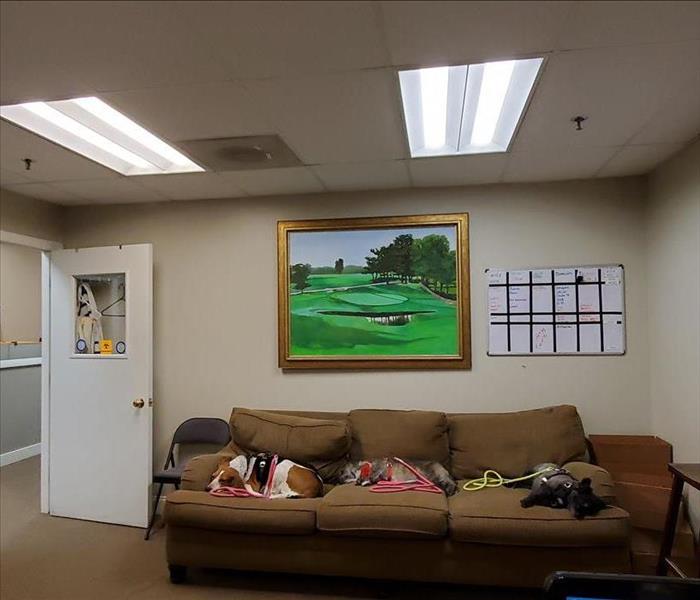 Our "Office Staff" says Relax since our SERVPRO production crew is doing a great job of restoring your Portsmouth flood-damaged home
SERVPRO is a local company with nationwide resources for Portsmouth flooding restoration
Nor'easters and hurricanes form under different conditions and areas of the Atlantic Ocean, but both types of storms target coastal New Hampshire, causing severe flood damage in Portsmouth. The destruction can destroy exterior and interior building materials and the contents of your home, as well as inflict similar wind and water damage on neighboring housing.
What Should Portsmouth Residents Look for in a Reputable Flood Restoration Contractor?
During the storm in Portsmouth and the immediate aftermath, you can feel utterly overwhelmed with the scope of the water clean up needed. Do not let panic impel a decision to hire an itinerant company operating out of a vehicle or two, following storms from community to community with hard-sell tactics. This can leave customers like yourself to fend for themselves if promises are unkept or lingering flood moisture issues occur. Contracting with your local SERVPRO instead offers:
Licensed and certified project managers, crew leads, and technicians
Swift, in-community response with minimal wait times and a brick and mortar presence, streamlining the crisis response and permitting ongoing support
Scalable capability, permitting us to help you and your neighbors by accessing our nationwide network of Institute of Inspection, Cleaning and Restoration Certification (IICRC)-trained partners
Comprehensive storm-related flooding interventions, including:
Tarping and board up emergency services
Water damage repairs
Basement flooding cleanup and water removal
Cleaning up after a sewer backup (a common complication when municipal sanitary waste systems cannot handle flooding quantities)
Mold inspections, remediations, and removal if indicated (mold can take hold after 24 to 72 hours of residual moisture)
Disinfection using Environmental Protection Agency (EPA)-registered antimicrobials
Applied structural drying, including determination of appropriate drying goals and continuous monitoring of drying progress
Engage the flood damage removal and repair services of SERVPRO of The Seacoast, SERVPRO of Dover-Rochester, and SERVPRO of Durham when your home suffers a battering from seasonal coastal storms. We are on alert 24/7, awaiting your call at (603) 433-4300 today, and looking forward to supporting you into the future.