We Are The Leader In Exeter Flood Damage Restoration
11/18/2019 (Permalink)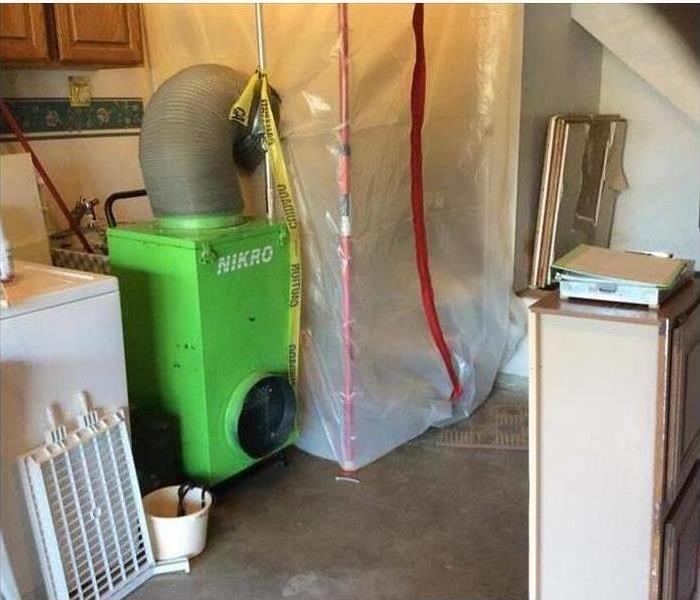 We had the equipment necessary to handle restoring this house when it suffered a small, spritzing leak from the adjacent sink.
Why Call SERVPRO For Help With Flood Damage In Exeter
The fallout from a flood can leave your home in disarray for a long time to come, especially if you do not know all of the proper steps for remediation. Working through flood damage with the help of trained professionals gives you the results you need, fast.
When it comes to flood damage in Exeter, you might think that all of the water extraction tools available are the same. SERVPRO wants you to know that there are multiple choices for water removal based on the severity of the water infiltration and the scope of the project. When you suffer a flood loss, we can come out to your home to do a full assessment and get started on remediation as soon as possible.
Why SERVPRO?
Our technicians are highly trained, and we employ a variety of options for water removal and remediation after a flood. The technology we use far exceeds the capacity of any store-bought pumps or vacuums, and we use specialized processes to eliminate moisture throughout your home.
In many flood damage recovery scenarios, our technicians have access to multiple extraction devices to get the job done. We have robust, electric submersible pumps for deep water removal. Once the water levels subside, we can switch over to wet vacs with light wands to bring up all of the excess water. We must develop an approach that is tailored to your unique situation to rid your home of moisture in the fastest, most efficient manner possible.
When it comes to oversaturated carpets, we have specialty extractors that force moisture out from the padding below, as well as the subflooring. If our technicians get to work fast enough, this technology reduces the need for new carpet installation.
Get in touch with SERVPRO of The Seacoast today by calling (603) 433-4300 to deploy a team of technicians to your home. We are faster to any disaster, and our teams are available 24/7.
See more about Exeter.