Restoring Flood Damage in Exeter
7/15/2021 (Permalink)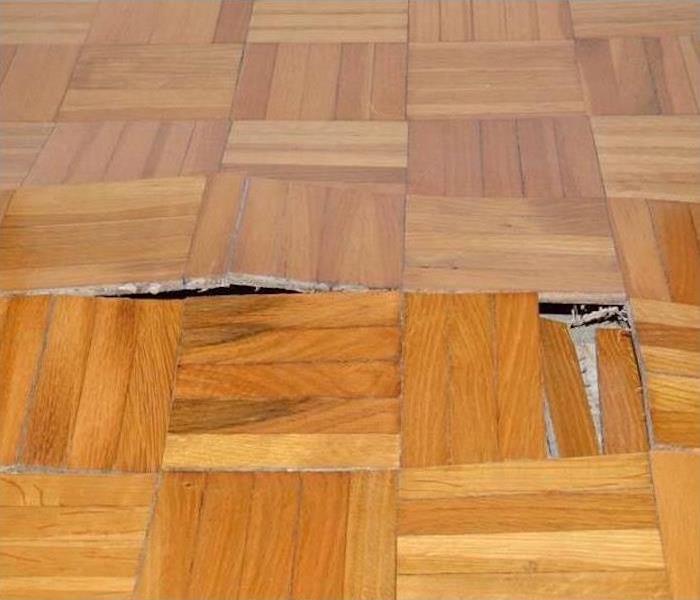 Water can damaged wood and parquet flooring in your Exeter home--Call SERVPRO to mitigate the storm damaged flooring
The Effects of Flooding on Your Floors and Subfloors
Flooding costs in Exeter and the rest of New Hampshire run into millions of dollars each year. It grows worse when homeowners ignore the effects until they feel floors give under their feet or they can see the colors bleeding from their carpets.
That is why Exeter flood damage, or anywhere else, always begins underfoot. Wood floors start to warp and buckle in only several days. SERVPRO technicians prevent this by removing standing water quickly and drawing moisture trapped in the floorboards. If we do not, the wood damage is only the beginning. The sub-floor under floorboards and carpets is a perfect environment for mold spores to expand and grow.
Flood Damage Clean Up
When flood damage does happen, SERVPRO restoration teams have to remove the wood flooring and take care to prevent spreading any mold spores onto other property or into rooms not already contaminated. If there are undamaged pieces, team members attempt to remove them without causing secondary damage. If there is enough to make it feasible to the homeowner, we reuse it in areas along walls to hide it under floor trim or furniture.
Now, we examine the sub-floor. Damage from water and mold is usually minimal, so we typically accomplish this part of the job in just a few days. If the damage is more than minimal, then removing it could take over a week. In extreme cases, it is quicker and cheaper to remove the entire sub-floor immediately and replace it than spend time trying to save a small amount of wood. We may have to bring in jacks and screws for extra wall support if this happens until we lay in the new sub-floor. Technicians work quickly but take the time needed to do it right.
If the subfloor is not level, then the wood floor we install on top starts off already buckled and with other problems. Putting in a new wood floor is simpler by comparison. We check our lines and joints carefully with each board to prevent gaps and carefully use sanders to ensure a completely level surface.
Restoring your home after a flood is a complicated process, but SERVPRO of The Seacoast, SERVPRO of Dover-Rochester, and SERVPRO of Durham has the training, tools, and experience to put it back together. For more information on how we can help you and your home, call us today at (603) 433-4300.