We Use State-Of-The-Art Equipment To Restore Your Portsmouth Home
4/9/2019 (Permalink)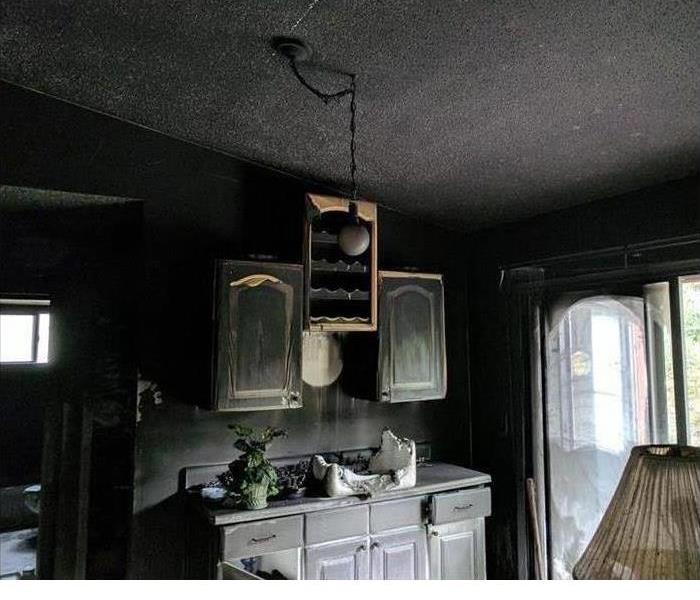 We restored this Portsmouth house from soot and smoke damage in every room of the house with our expertise and equipment.
Discover How to Remove Fire Damage Odor from Your Portsmouth Home Effectively
Stubborn smoke odor is one of the detrimental consequences of fire damage. It can linger in your house for a lengthy period, compromising the air you breathe. If your home has a smoke odor, you should take steps to eliminate it effectively and quickly. Removing the smoke scent is challenging for the tiny smoke particles stick to all household surfaces and get embedded into porous materials like fabrics, carpeting, furniture, books and even paint. Removing the scent requires specialized cleaning equipment.

It is advisable to hire a fire restoration company like SERVPRO to remove fire damage odor from your Portsmouth home. Our experts can assess the situation and select the most appropriate remediation method while ensuring safety. We use state-of-the-art equipment like ozone generators to eradicate smoke smells. These machines generate ozone, which consists of three oxygen atoms. Ozone reacts with odor-causing molecules to oxidize residues and eliminate the scents.

Ozone can harm living things because of the way it combines with water. It may cause nausea and headaches among other health issues. SERVPRO technicians remove all living things from the area before setting up an ozone generator and sealing the rooms to prevent dissipation. After the deodorization process, ozone returns to the normal oxygen molecule quickly, without leaving residues. We also use high-velocity fans to ventilate the area until the smell of ozone is gone.

When it is not safe to use an ozone generator, our technicians use hydroxyl generators. These generators use ultraviolet light to produce hydroxyl, which is useful for removing fire damage odors. Hydroxyl generators do not affect the health of plants, pets, and humans. We can also seal porous surfaces that have absorbed smoke such as unfinished, raw wood. At times, odor remains in confined areas after the deodorization process is complete. In such a situation, our technicians can ventilate the confined space, place an activated unit in it overnight or thermal-fog the whole structure if necessary. Our goal is to deal with the fire damage odor to make your home smell "Like it never even happened."

If your home has fire damage odor, SERVPRO of The Seacoast can assist you in eliminating it. We have years of experience in dealing with smoke odors. Contact us any time at (603) 433-4300 for fire restoration services in Portsmouth, Exeter, and Hampton.
Click here for more information on the summer programs we offer in Portsmouth.