Off-Site Fire Restoration Content Cleaning for Portsmouth Shops
4/23/2022 (Permalink)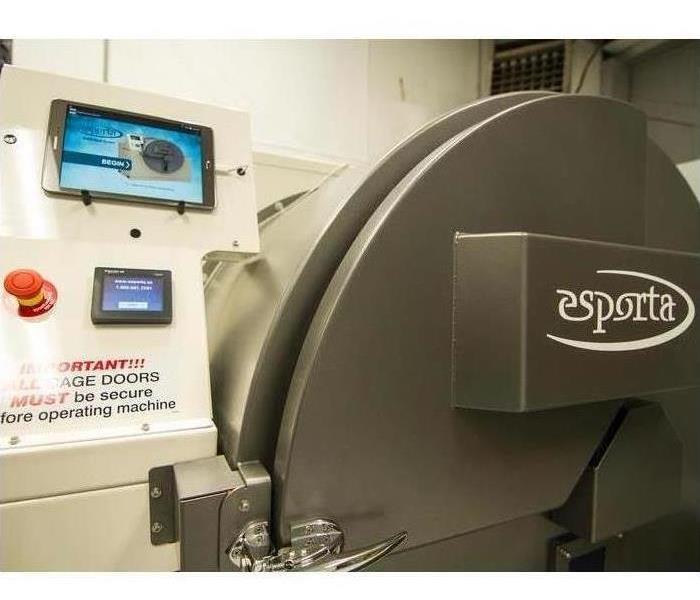 SERVPRO provides pack-outs for content preservation and cleaning with our Esporta washing system. Portsmouth counts on SERVPRO.
SERVPRO Professionals Clean Fire Damage from Portsmouth Shop Stock
Fires affect structures of all sizes, so whether it is a large box store or a boutique for specialty items, the same urgent fire damage restoration service is mobilizing to help. We can provide several mitigative solutions to protect your property and its contents.
The Pack-Out Process
Fire restoration for Portsmouth shops can often prioritize the need to protect the contents and wares of the facility to protect the investment of property management. For this reason, our SERVPRO team has a pack-out process that gathers all exposed items for focused cleaning, drying, and deodorization. Relocated inventory can include:
Submersion Tanks
Soot adheres rapidly to solid surfaces and non-porous elements like glass, porcelain, and similar compositions. Cleaning up after soot exposure at our SERVPRO facility can utilize our ultrasonic tanks that loosen and remove soot soils on these objects to restore their original appearance.
Soft materials impacted by soot and smoke solids must be gently cleaned and restored. Unlike the submersion tanks and how they can help hard surfaces, our ESPORTA Wash system delicately lifts soils from fabrics and soft materials for a deep clean without abrasive or aggressive mechanical action.
Ozone Chamber
Another obstacle for our restoration team with the items pulled from damaged shops is the exposure to airborne smoke odor compounds. These molecules can become trapped in porous elements like clothing and upholstery, making it vital to have an effective deodorization approach to manage multiple items simultaneously. Our ozone chamber does just that.
Protecting the wares and inventory of your shop after a fire damage incident is valuable. We appreciate how disruptive and destructive these events can be, so we prioritize any option to make the restoration process and recovery efforts more streamlined and cost-efficient. Give our SERVPRO of The Seacoast, SERVPRO of Dover-Rochester, and SERVPRO of Durham teams a call for large loss fire recovery at (603) 433-4300.