Who should I call for Flood Damage in my Basement?
4/22/2020 (Permalink)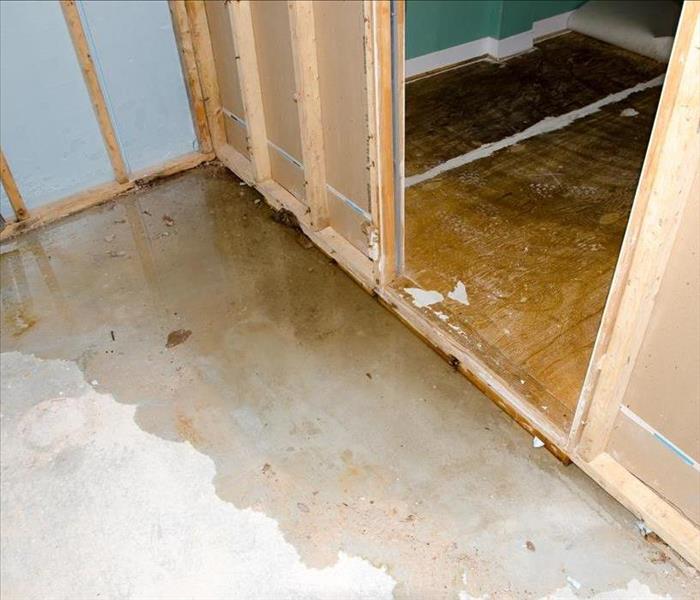 SERVPRO Leaves Your Flood Damaged Home in Portsmouth Only When It Is Dry and Ready for a Build Back.
SERVPRO Cleans Basement Flood Damage in Portsmouth.
New Hampshire homeowners may be aware of the risks basements face when it comes to flooding, but they may be surprised to know that only 2% of basements never experience flood damage during their lifespan. While there are many preventive measures that you can take to minimize damage, when disaster strikes, it can be stressful and overwhelming to keep your family safe and salvage your home and belongings after it occurs. However, there is a team that can help.
When flood damage hits your Portsmouth basement, SERVPRO technicians are ready to bring fully-loaded trucks filled with cutting-edge equipment, EPA-registered biocides, and gas-powered generators to restore your home to a preloss condition. The Institute of Inspection Cleanup and Restoration Certification (IICRC)-accredited pros handle everything from extracting floodwaters, waste, and debris from your basement to making necessary structural repairs to your property.
What to Maintain to Minimize Basement Floods
Sealing tiles and foundation. Proper sealing is necessary to prevent water seepage and foundation damage.
Proper downspout installation. If downspouts are too short, are clogged, or face the wrong way, floodwaters can quickly be redirected into your home through cracks in the basement.
Drain tiles. This is the drainage system built around your home, like a curtain drain.
Clean gutters. Much like your downspouts, gutters need adequate care to prevent damage and clogs that can eventually lead to water pooling in the basement.
Sump pumps. Making sure your basement's drainage system is operational minimizes the risk of sewage backups and floodwater backing up into your home.
SERVPRO Restores Your Home
SERVPRO techs have the means to remove floodwaters, no matter how deep. Portable, back-mounted extractors, wet/dry vacuums, and mops are ideal for small-scale floods. Submersible, gas-powered pumps tackle floodwaters 2 inches or higher. Truck-mounted extraction systems remove large volumes of water: Anywhere from 60 gallons to well over 100 gallons of floodwater. After extraction, your basement can be sanitized with EPA-registered biocides and prepared for structural drying.
SERVPRO of The Seacoast, SERVPRO of Dover-Rochester, and SERVPRO of Durham provide mitigation service that is Faster to Any Size Disaster. You can call (603) 433-4300 for reliable rapid-response service.
Learn more about Portsmouth.